Paramotoring and
Powered Paragliding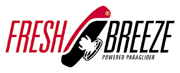 The Heavy-Duty Trike!
Skip One Powered Paragliding Trike by Fresh Breeze.
The Skip One trike is made for heavy duty use with solid Aluminum tubing construction. The main bar "the back bone of the unit" is a 2" x 6" aluminum tube. It will take the hardest of landings with no bending.
The Skip One also has an integrated seat - very comfortable! You belt right into the seat with no harness to get in the way. The Skip One has real tires to stand up to real use. Plus, there is a bar above your head to take some of the load in case of a accidental roll over.
You can see the that the Skip One is a real trike workhorse. The Skip One Trike does not include the paramotor, the best motors for use with this trike are the Solo, Simonini or Monster Hirth.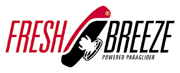 Technical Specifications

Weight
27 kg
Height, assembled
140 cm
Width, assembled
137 cm
Height, disassembled
75 cm
Width, disassembled
120 cm
Construction
Aluminium
Max. pilot weight
100 kg
Ascending rate with Monster
2 m/s
Engines to be used
Solo, Simonini, Monster
All the information and images published in this website are property of TrikeBuggy, Inc. unless stated otherwise.
Reproduction of any part of these contents (info, graphics & pictures) by other website or media is strictly forbidden,
unless specially authorized by TrikeBuggy, Inc
© TrikeBuggy, Inc 2002– 2019
Please respect the rights and intellectual property of this Web site.