Paramotoring and
Powered Paragliding
This German Paramotor engine has proved itself since the beginnings of Paramotoring.
The robust reliability of the Solo 210 motor has already became legend, thousands of times proven for the last 17 years.
Features:
Comfort bars under the arms increase the seat comfort particularly on long flights.
Vibrations felt by the pilot are noticeably decreased.
Movement of the engine on pilot's back are greatly reduced.
Fast assembly without tools through Quickpin and Velcro.
The position of the starter knob makes restarting the Solo very easy.
Now, you can specify a Double ring cage (DRC) instead a standard One ring cage (ORC).
The 10 liter fuel tank allows flights of 2+ hours.
Aluminum cage & frame.
Standard as pull start - optional electric start with alternator - charging the battery while the engine is running.
Now standard with the new improved performance Scimitar propeller.
You can download the Owner's Manual. Fresh Breeze Pricing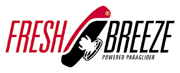 Technical Specifications

Engine
Solo 210 cc
Power
20 hp @ 6000 rpm
Thrust
125 lbs
Cooling
Air
Carb
Bing or Walbro
Exhaust
Resonator (tuned)
Starter
Manual or Electric
Propeller
2-Blade Scimitar
Diameter
48"
Weight
58 lbs.
Tank
2.5 gallon, optional 4.5 gallon
Cage
4 part aluminium, single or double ring
All the information and images published in this website are property of TrikeBuggy, Inc. unless stated otherwise.
Reproduction of any part of these contents (info, graphics & pictures) by other website or media is strictly forbidden,
unless specially authorized by TrikeBuggy, Inc
© TrikeBuggy, Inc 2002– 2019
Please respect the rights and intellectual property of this Web site.