Airone UNIQUE - $2039
Airone
TANDEM
- $4250

The Airone Trikes are very unique PPG Trikes that are designed with attention to detail and are universal to fit most paramotors on the market.
The Airone Unique PPG Trike is very lightweight, yet features a strong construction that allows it to fold down into one of the smallest units on the market in just a few seconds. The Airone Unique features a quick disconnect at the neck for folding the trike down quickly and easily. The rear axles pull out and the rear wheels also remove from the axles. All this without sacraficing the structural integrity of this solid PPG Trike.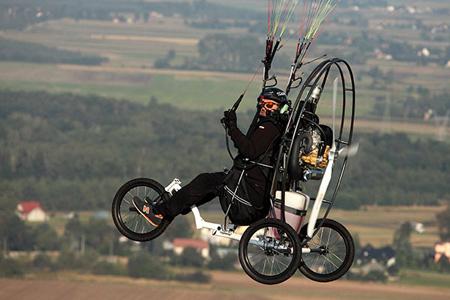 The wheels are purpose made, light weight Spoked wheels that look like BMX wheels but are very strong to take the stresses and strains of the weight of the Pilot, Trike and Paramotor during bumpy take-offs and landings.
Your strength, health and fitness can deteriorate as we get older.
When you have been flying for many years with a foot-launched Paramotor unit on your back, your spine and joints are exposed to big loads and high possibilities of compressions and damage despite years of experience. Mounting your Paramotor on a trike relieves the stresses and strains from the weight of your paramotor on your back. You can enjoy effortless flying without worrying about your body not keeping up with your age or fitness.

Easy On, Easy Off
Airone Unique trikes are equipped with adjustable system of fastening the paramotor which allows to fly "from wheels" almost on every PPG drive available on the market. It takes less than a minute to assemble and disassemble these trikes without the need of any tools. When they are disassembled, they fit to the trunk of the small car. It is very comfortable and practical solution for the weekend trip or regular flights.
Dimensions of the disassembled trike: 50cm/50cm/83cm (height/width/length)
Dimensions of the trike ready to fly: 56cm/150cm/170cm (height/width/length)
Weight of the trike ready to fly: 18kg
Trike equipement:
* 20" wheels for the extreme sports
* wheels hubs situated on the mechanical bearing
* double walled wheel rim with slots for spokes nipples that connects two walls of rim together.
* rear wheels ONE CLICK with the system of quick unplugging. Time needed to unplug wheel for the transport is 1 sec.
* effective breaking system V-BRAKE
* approved flexible half shafts strengthened with carbon fibers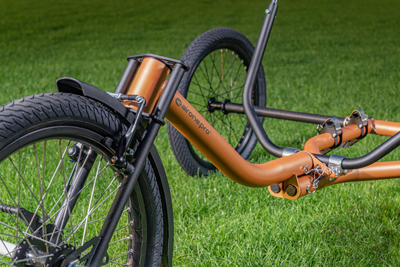 The idea of making a trike that would be:
Easy for transportation even with the use of a small car
Light on land and controllable when in the sky.
Durable construction.
Fast setup and packing away.
Above all - Practical and allowing for the feeling and fun of flying just like a normal foot-launched Paramotor PPG.

Airone UNIQUE Model
The Airone UNIQUE PPG Trike is a classic full frame PPG Trike featuring a quick disconnect at the neck for folding the trike down quickly and easily.

The UNIQUE has wide wheels, making launching easy from soft surfaces. This PPG Trike has great strength and stability, yet only weighs in at 18kg.

Now available in White, Black and a new Copper Color! In addition, all trikes are now equipped with a front wheel fender as shown above.



See the Airone PPG Trike coupled with the Minari Paramotor
HERE
!
Special Adapters for Certain Paramotors!