Paramotoring and
Powered Paragliding
The Simonini Sportix - The newest generation
of motors from Fresh Breeze!
The Fresh Breeze Simonini Sportix targets a pilot weight of up to 260 lbs. This excellent paramotor is extremely versatile, allowing it to be used for foot launched flight as well as for PPG Trike, Flyke or TrikeBuggy applications.
Features:
Low attachment point for the glider.
11 liter fuel-tank in low position.
Very small dimension of the cage while in transport.
Fast assembly without tools through Quickpin and Velcro.
Very rugged designed frame but light weight
Now, you can specify a Double ring cage (DRC) instead of a standard One ring cage (ORC).
Aluminum cage & frame.
Standard as pull start - optional electric start with alternator - charging the battery while the engine is running.
Now standard with the new improved performance Scimitar propeller.
You can download the Owner's Manual. Fresh Breeze Pricing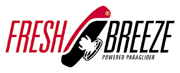 Technical Specifications

Engine
Simonini 202 cc
Power
24 hp @ 6000 rpm
Thrust
153 lbs
Cooling
Air
Carb
Walbro 37
Exhaust
Resonator (tuned)
Starter
Manual or Electric
Propeller
2-Blade Scimitar
Diameter
48"
Weight
65 lbs.
Tank
2.5 gallon, optional 4.5 gallon
Cage
4 part aluminium, single or double ring
All the information and images published in this website are property of TrikeBuggy, Inc. unless stated otherwise.
Reproduction of any part of these contents (info, graphics & pictures) by other website or media is strictly forbidden,
unless specially authorized by TrikeBuggy, Inc
© TrikeBuggy, Inc 2002– 2019
Please respect the rights and intellectual property of this Web site.