Static thrust figures are measured on Bailey Aviation's calibrated test rig and are averaged across a variety of different atmospheric conditions (temperature, pressure, humidity)
Fuel consumption figures are based on an 85Kg pilot with Ozone Viper 27 wing on fast trim
Noise level is measured to DULV (German regulating authority) standards, range 100 meters overhead, paramotor at wide open throttle
CONSTRUCTION
All Bailey Aviation paramotors are designed, manufactured and assembled in house to exacting standards.
ALUMINIUM ALLOY CHASSIS AND CAGE SECTIONS
The alloy cage and engine chassis are made from drawn aviation specification aluminium tube of various gauges giving maximum structural stiffness without adding excess weight.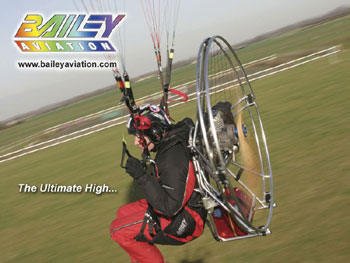 All tubes are precision TIG welded using filler rod of the same material to insure uniform strength and quality of finish. The safety cage is a 4 piece split design that is clear anodised for added durability and incorporates nylon bushes to prevent any unwanted movement.
The cage quarters are secured with strong Velcro fasteners allowing quick assembly/disassembly with complete peace of mind and ultimate portability. In the event of a very heavy landing or fall the cage is designed to deform & absorb impact, protecting the pilot and the main chassis.
This 'No compromise' design has high structural rigidity in key stressed areas and is designed to be dismantled quickly & easily, leaving the chassis/engine to remain free standing when disassembled. Bailey Aviation's design brief was to make technically competent machines that are aesthetically pleasing and easily transportable.
TITANIUM CHASSIS AND CAGE SECTIONS
The TITANIUM range of chassis, cage quarters and hang-bars produced for Bailey Aviation by one of the worlds finest Titanium specialists. This exotic material is stronger and lighter than aluminium alloy (it has the highest strength-to-weight ratio of any metal) and possesses very high heat, corrosion and fatigue resistance. The outer hoop has been designed from aerofoil section Titanium for less drag and wind noise and has integral titanium loops for the nylon safety netting to be weaved through. The TITANIUM range has a weight saving of 1Kg from our standard aluminium alloy paramotors and give you looks second-to-none.
Titanium has been used for many years in medical, military and aerospace applications and has a 'memory' and so can absorb minor impacts with little or no deformation. Chassis', cage quarters and hang bars are finished in natural titanium, complete with beautiful welding heat discolouration.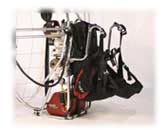 Harness
Bespoke harness designed in collaboration between Bailey Aviation and Sup'Air of France. This lightweight harness is rigid but comfortable and has lots of useful features, such as: Double lock Sup'Air caribiners, in flight accessible 6x9" pockets, quick release buckles, speed bar pulleys, adjustable leg support, secondary safety hang straps, rucksack type ground hang system, padded shoulder straps and stainless steel quick release securing pins. The harness also has integral reserve bridle routing underneath Velcro padding – Perfect for fitting a Sup'Air reserve.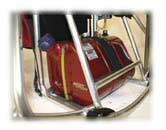 Fuel System
Bailey Aviation's unique 10 Liter aluminium fabricated fuel tank is a quick release design and can be easily removed from the paramotor in seconds enabling easy 'off motor' re-fuelling. The tank also incorporates a side mounted level gauge with scale and a quick release dry-break fuel coupling to prevent spilt fuel on disassembly and a screw mounted filler cap with one-way valve.

Flight Geometry
After extensive testing and development of the harness hang system, Bailey Aviation machines will fly straight & level without turning or yawing and are stable in turbulence unlike many other designs.
Bailey Aviation offers two different designs of hang bars, known as the mid type and low type: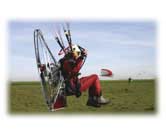 Mid type
Asymmetric 'torque-cancelling' hang bars with two-position fulcrum point allow for any pilot weight. The mid hang bars are manufactured from seamless 316 stainless tube that are mirror polished and are attached to the chassis by two quick release 'Pip pins'. Mid hang bars are highly recommended for novice pilots as they are offer a very stable flight.
Low type
These hang bars feature 50mm lower attachment points than the mid type and are popular with competition pilots who want more weight-shift capability from their set-up. They have four positions of adjustment to not only cater for varying pilot weights, but also allow the pilot to change the thrust line, again a useful feature for competition pilots. The trade-off for the increase in maneuverability is a slight decrease in stability.
Electric Start System
All Bailey Aviation paramotors are equipped with a reliable electric start system, using a 12v 2.5ah sealed lead acid battery pack with quick release multi connector. One push of the start button located on the throttle handle and the 4 stroke starts effortlessly, even in flight. The battery charges in-flight, so need to worry about flat batteries or regular re-charging. A 240v mains (UK) wall charger is available as an optional having full thermal protection against over-charging.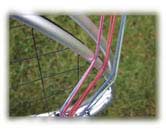 Safety Cage Netting
The Bailey Aviation safety cages have their own specification woven nylon safety mesh which is threaded through the outer hoop (using plastic inserts) leaving a perfectly smooth inner edge for the wing lines to glide over during a forward launch. The cage also has a convenient throttle handle hook.



Research & Development
Bailey Aviation has spent many exhaustive hours testing all aspects of their paramotor range to insure that they can get the highest power and thrust figures for their machines.
Bailey Aviation uses their own custom made Paramotor test rig that consists of a heavy steel 'Stand on' chassis with a sliding bed that is mounted on low friction roller bearings that the complete Paramotor is strapped onto. This sliding bed is connected to a very precise, calibrated load cell that is linked to a digital readout, enabling them to get accurate, repeatable test figures for their motors. All measurements are taken indoors, reducing the chances of wind affecting the test results.
The ambient temperatures and barometric pressure are also logged and tests have been repeated at different times and temperatures to obtain meaningful 'Average' test results. By testing different prop designs and reduction drives they can be sure that their range is honed to perfection.