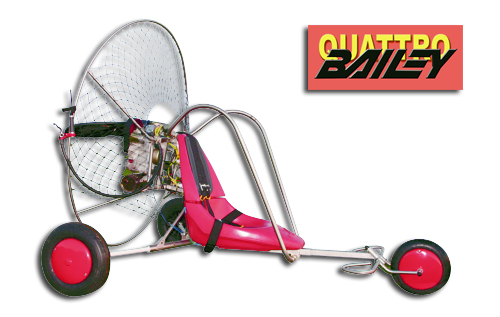 BAILEY QUATTRO TRIKE
The Bailey Quattro Trike is the newest addition to our range. Based on a successful and very capable French design, mated to either our V3-180 or 4V-200 engines, the Quattro adds a new dimension to powered flight.
Ideal for pilots who are unable to foot-launch owing to physical complaints such as back or knee problems, pilots that are un-easy with the weight of a 30Kg + paramotor on their back, female pilots or indeed those that just want the most relaxing flights possible with easy launches and landings. Due to its rolling start, the Quattro can take-off in nil wind conditions, which is normally on of the most challenging aspects of foot-launching.
With its design elements inspired from sand karts, the Quattro not only looks unique with its tough, moulded bodywork finished in eye catching red, but is also superbly comfortable due to its sculpted bucket seat (with rear accessory pocket) , adjustable harness, and adjustable wheelbase (130cm-180cm) to cater for any pilot size. Its suspension (fibreglass) provides optimum shock absorbance during taxing, take-off and landing. Once strapped in, machine and pilot become one which reflects in the feeling of a very direct flying experience, whilst remaining safe and very controllable.
The Quattro has a dry weight of 55Kg/121lbs (V3-180 powered) or 56.2Kg/123lbs (4V-200 powered) and provides 60kg (V3-180) or 75kg (4V-200) of thrust from the smooth and tractable Bailey 4stroke engines (electric start) fitted with a Helix 1.3m two blade carbon-composite propeller. A large 22 litre fuel tank gives the Quattro an amazing range of 8+ hours flying (dependent on pilot weight, atmospheric conditions etc) with our super-efficient 4strokes.
Manufactured from 304 stainless steel, the Quattro's design has been tested to 6G, and its two-piece safety cage is easily disassembled in less than 15 minutes with no special tools required. Its packed size 70x70x130cm means that it can be easily transported in an average hatchback car. When assembled the Quattro has a track width of 142cm and is 150cm high and uses 40cmØ wheels with rubber tires.
---
BAILEY QUATTRO PLUS TRIKE
Many customers have asked us if we could adapt the design of the Quattto trike to allow there Bailey paramotor to be bolted on to convert their paramotor into a fully fledged trike, so this is our answer, the Quattro Plus.
The Quattro Plus shares the same fantastic form as the Quattro, but has a ingenious mounting system that utilises the hang bar sockets of our paramotor range and the existing quick release pip-pins to convert from paramotor to trike in a few minutes with no tools. Simply remove your paramotor harness, hang bars and fuel tank and then attach the dry break coupling from your motor to the Quattro Plus 22 litre tank and you are ready to launch.
Please note that the Quattro Plus is only suitable for Bailey Aviation paramotors, not any other design of paramotor.