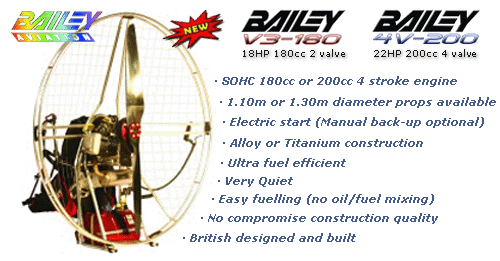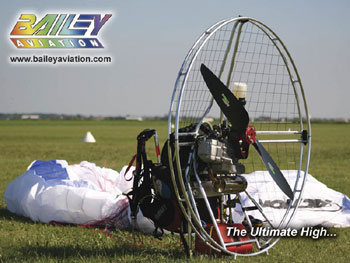 2009 saw the introduction of two all new, third generation 4 stroke engines, known as the V3-180 and 4V-200. The V3-180 is an 18HP, 180cc, 2 valve engine that directly replaces our 4stroke175 and features a number of improvements; 1kg lighter, more compact in every dimension, more powerful, improved cooling, provision for electric start with manual back-up, increased oil capacity, improved oil filtration/scavenging and much more.
The 4V-200 engine is based on the V3-180, but has a capacity of 200cc (22HP) and features a unique 4 valve cylinder head, ideally suited to paramotor pilots that weigh over 110Kg or the perfect answer for self-builders of trikes, ultralights or powered hanggliders, looking for economical, reliable 4 stroke power.
Our 'World First' 4 stroke paramotors have proved devastatingly effective over the last 6 years in competitions, with many UK, French, Spanish, European and World Championship podium positions. Bailey Aviation machines are the leading choice for competition pilots, long XC pilots and fun-flyers alike. The 4 stroke design provides a superbly linear power delivery, smooth from idle to the higher RPM limits, far removed from the peaky power delivery of some 2 stroke designs. Many pilots are enjoying the extra flying time our fuel-efficient 4 stroke design offers, with 4+ hours flights now possible from a 10 litre fuel load (15 litre tank optional).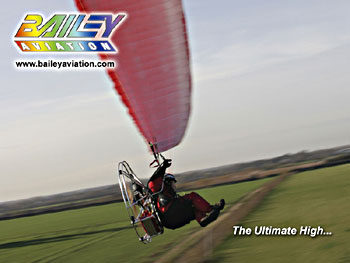 The Bailey 4 stroke is a single cylinder SOHC design and features CNC machined alloy crankcases, pressure compensating carburettor, stainless steel exhaust, Poly-V belt drive reduction, high power CDI ignition and electric starting system. The Bailey 4 Stroke engines are compact and weigh in at 18.3Kg (V3-180) or 19.5Kg (4V-200) with all ancillaries (but minus battery pack).
But are the 4 strokes heavier?
Many people are apprehensive at the dry weight of our 4 stroke paramotor compared to a 2 stroke counterpart, without understanding the affective advantages of the design. There are currently many 30kg + paramotors available, most having a fuel consumption of 4-6 litres / hour. This means that when fuelling for a 2-hour flight on such a machine it would require the loading of 10 litres (7.20kg) of fuel, bringing the total take-off weight to 37.20kg. A similar flight on a Bailey 4 Stroke that uses 2 litres/hour would only need 4 litres (2.88kg) of fuel, resulting in a take off weight of only 36.38kg. When contemplating the weight of a Bailey 4 Stroke, the fuel load has to be taken into consideration, as the 4 Stroke is very economical.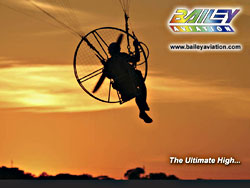 All Bailey Aviation paramotors are supplied with the following standard features:
Helix Carbon-composite 2 blade propeller (1.1m or 1.3m available)
4 piece double hoop safety cage (Alloy or Titanium available)
Sup'Air Bespoke harness with carry pockets and attached speed bar pulleys
10 liter aluminium fuel tank with dry break coupling and sight gauge
Stainless steel hang bars (mid or low types available)
Padded Bailey Aviation propeller covers
Padded Bailey Aviation cage quarter bag
Operation and Maintenance manual
Bailey Paramotor Specifications