Paramotoring and
Powered Paragliding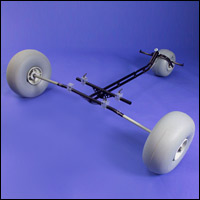 This simple frame design features the Roleez wheels for excellent shock absorbtion and the ability to launch from a variety of ground surfaces, including beach sand, gravel or rocky ground and grassy fields.
The paramotor clamps onto the frame quickly and easily, and the rear axles are removable for transporting the trike.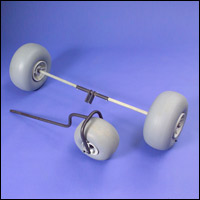 The Stabilizer Kit
This picture shows the three additional stabilizer kit wheels used for exceptional stability launching in high winds or simply doing practice take offs for beginners with a high degree of safety.
The Stabilizer Kit can be purchased along with the ParaToys Trike, or seperately at a later time and added if you prefer.
Paratoys Trike
$1295.00
Order Now!

(paramotor & harness not included)

Paratoys Trike
Stabilizer Kit
$795.00
Order Now!
All the information and images published in this website are property of TrikeBuggy, Inc. unless stated otherwise.
Reproduction of any part of these contents (info, graphics & pictures) by other website or media is strictly forbidden,
unless specially authorized by TrikeBuggy, Inc
© TrikeBuggy, Inc 2002– 2019
Please respect the rights and intellectual property of this Web site.