Paramotoring and
Powered Paragliding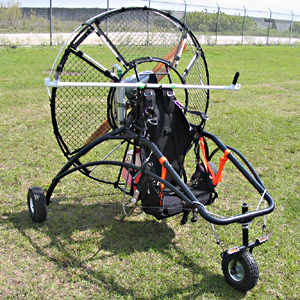 My friends at Southern Innovations USA have come up with an ingenious trike design that uses bent tubing and cables to keep the frame rigid. The result is a unique trike that has a very solid feel to it.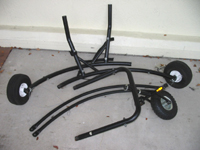 This trike works well with virtually any brand of paramotor that uses the comfort bar harness system (motors with bars under the arms that attach to the harness and motor frame) - Fly Products, Black hawk, Walkerjet, iFlyers, and U-Frames. I will be testing the trike with Fresh Breeze also to see if it is compatible with these motors.
The Kits Trike was named for the its assembly and breakdown features, as you can see in the picture on the left. When dismantled, the pieces can easily be transported in a small amount of space.
The Kits Trike comes with an Owner's Manual and CD. Frame color is black.
What is it like? Experience a Discovery Flight on the TandemTrike! Learn More...
Kits Trike
$1095.00

Order Now!
(paramotor & harness not included)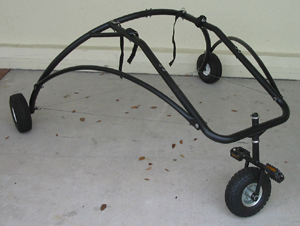 All the information and images published in this website are property of TrikeBuggy, Inc. unless stated otherwise.
Reproduction of any part of these contents (info, graphics & pictures) by other website or media is strictly forbidden,
unless specially authorized by TrikeBuggy, Inc
© TrikeBuggy, Inc 2002– 2019
Please respect the rights and intellectual property of this Web site.