CheapTrike Paraflyer
$6100

Plus shipping
Order Now!
(does not include wing)
Powered by: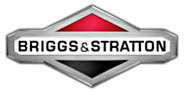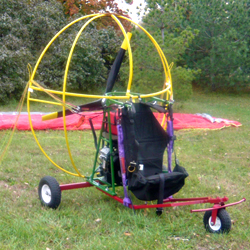 The CheapTrike Paraflyer is the latest PPG Trike developed by Terry Lutke in Dorr, Michigan. The trike is made from mild steel, allowing the trike to be very strong, yet easy to repair. The motor that Terry uses is a brand-name 4-Stroke engine, far more reliable than the 2-stroke motors common to most paramotors.
Here is a list of advantages the 4 stroke aviation motor has over the 2 stroke version:
More reliable (very important when flying)
Less daily maintenance
Far longer lasting before requiring a rebuild
Lower fuel use
No oil/gas mixing
Readily available parts and service in every town
Parts and repair labor cost far less
Quieter running
4-strokes are far less polluting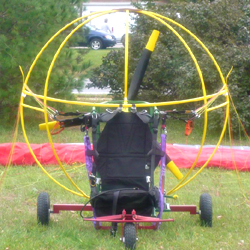 Terry also found that paraflyer trikes are most stable if the weight of the engine is installed lower in the airframe; this low mount engine feature is unique to the CheapTrike. Also long drive belts tend to last longer, run cooler, and reduce engine-pulse vibrations. The CheapTrike uses a GSC 64" propeller, longer than any PPG prop in use! This allows the motor to run at reduced RPM's while cruising and greatly reduces the noise during flight.
From Terry Lutke:
"In PPG we have become accustomed to think in terms of a couple hundred hours between major engine maintenance problems. So far with the 4-stroke Briggs, I have done zero engine/redrive maintenance other than 1 oil & filter change; extremely low maintenance is the 4-stroke theme I like to push."
"In spite of having to deal with the extra weight of the 4-stroke and heavier structure, I have become spoiled by the fly-it-and-forget-it engine and redrive. The CheapTrike's redrive, belt and engine are designed to mirror industrial standards (btw, properly designed industrial belt drives are designed for 10,000 hrs use between maintenance cycles). Other than minding oil level and oil change intervals, the engine needs nothing, and I think it's possible that the AXtriple belt could last for years without needing to be replaced, or even tightened."
"A good industrial 4-stroke might remain in service for several thousand hours before needing major engine work. Think about that for a moment; here in Michigan we fly about 50 hours a year, at that usage level a Briggs industrial engine might easily run fine for 30 years without an overhaul! It blows my mind to think that one engine could actually last my entire flying career with no major work, but it's true."
"I like the idea of using 4-Stroke engines just as the manufacturer produced it. Some other 4 stroke PPG/PPC builders seem to modify the engines to run faster, remove engine cowlings, and use hot rod motor parts for added HP; this seems unwise to me. Briggs, Honda, Generac, etc., have hundreds of engineers who do nothing but think about how to make their industrial engines last longer, run cooler, and work better; hotrodding an engine basically nullifies all that expertise. Also, once any engine is modified, after-market service becomes more complicated; on the other hand, if an engine has all stock components, any future repairs are simply by the book."
"The CheapTrike's frame is fabricated from all mild steel thus I'm able to design the frame and hoop to be very strong; in fact I'm quite confident that the machine could be rolled completely over 360 degrees without breaking the prop or bending anything (BTW I have not tested this:). Should something become damaged or bent, mild steel is the simplest to repair."
"The overall economy of owning and flying with industrial 4-strokes appeals to my frugal nature. Reasonable purchase cost, low repair bills, and extremely low fuel use, all combine to make a 4-stroke engine look darn attractive. As a free bonus I get great reliability, lower noise, hundreds of engine service centers, low down time, and an engine life span that's off the charts."
Terry's unique 4-Stroke motor unit is also featured on the TrikeBuggy Bullet Thumper.