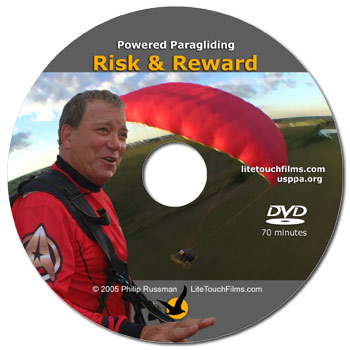 Finally! After 3 years of preparation, research, and gathering video from around the world, Risk and Reward is finished!
A must for all pilots, beginner and advanced, this DVD covers fundementals that are certain save wear and tear on your equipment, your body, and your wallet.
Jammed into 67 action packed minutes, Risk and Reward covers everything from getting starting in Powered Paragliding to the 4 most common causes of injury and more importantly HOW TO AVOID THEM!
"All of my students must have this DVD!"
- Mike, USPPA Instructor
"This should be watched at least every six months as a refresher."
- JR, PPG and PG pilot
"This video has set a new standard ultralight aviation education."
- James, PPG pilot
"The graphics are so clear. It makes my job way easier."
- Alan, USPPA Instructor
"I didn't know what I didn't know."
- Bob, PPG Pilot