...the Power to FLY!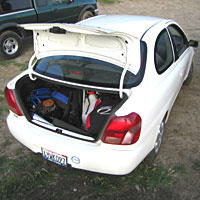 Powered Paragliding & Paramotoring - PPG!
Paramotoring is enjoying a surge of popularity in America, and for good reason - it's an aircraft that literally fits into the trunk of your car!
In less than 15 minutes, a pilot can set up for a remarkable new form of flight. Click HERE for a short video of a great pilot having fun!!
Combine the simple elegance of a modern paraglider with one of the backpack paramotor units and you have the ability to fly when you want and where you want (with consideration for the weather).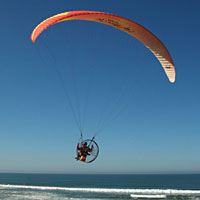 The Power Pack
The motor that powers us to dizzying heights is nothing short of remarkable. These lightweight engines have an incredible power to weight ratio, start easily and are fitted onto a backpack that you can easily walk around with.
With one of these motor units, the propeller gives you thrust, allowing you to launch, climb, fly level or glide down through the air on a paraglider at your own will.
These motors are some of the most powerful, yet low maintenance aircraft engines you will find anywhere. They are rugged, reliable and extremely easy to use.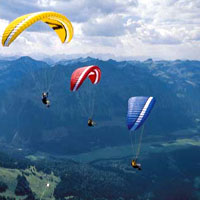 Wings of Change
Today's paragliders are really amazing flying machines! In about five minutes, a trained pilot can set a paraglider out onto a launch site and step into flight that can last for hours, even without power. Add the motor, and now we can fly just about any time of day!
The first step in becoming a good PPG (Powered Paraglider) pilot is learning how to control the paraglider wing. Mastery of this is paramount to our success as a pilot, since we are flying an aircraft, after all!
Kiting the wing overhead allows you to clear the lines before takeoff, and the better you are at controlling the wing on the ground, the better your understanding of flying the paraglider will be. Adventure Production's new Art of Kiting DVD is the perfect answer to help you develop your skills of ground handling.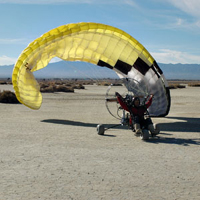 Training for Trikes & Flykes!
Our Trike Training Syllabus and Ground School program are the best in the nation, with emphasis on creating confident, competent pilots learning the fundamentals for a lifetime of safe and enjoyable flight.
American Paragliding offers many models of PPG Trikes to choose from. Each is different and unique, but all allow the pilot to launch and land while seated - rolling along the ground on wheels!
The Fresh Breeze Flyke is unique among PPG Trikes, it's a flying bicycle! With it's comfortable reclined lounge chair, this specialized trike gives the pilot more options to play. For more on the Flyke, order the DVD "East Wind" today!
Powered Paragliding
Risk & Reward
Free DVD! Purchase either a complete lesson package or your equipment before training and receive this great DVD absolutely FREE!
More Info....
Powered Paragliding requires significant training. We will not sell essential PPG flight equipment (i.e. wings or motor units) to anyone until we have verified that they have arranged for training with a recognized instructor.
Please see our Powered Paragliding Instruction page for more information on paramotor training. Save money when you buy your equipment and train with us!