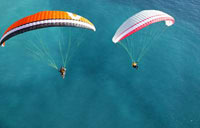 American Paragliding has been chosen as one of the schools in the USA to import Skywalk Gliders. We are very proud of this, and are now making owning a new Skywalk glider even more attractive!
If you do not have an Skywalk dealer near you, we will pay for your roundtrip airfare to come to Santa Barbara to demo your new glider! Santa Barbara offers year round flying opportunities, and now you can enjoy our many soaring sites while you pick up your new glider from us*.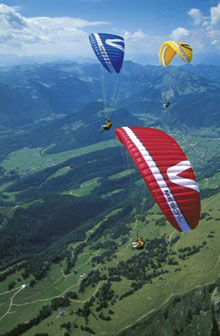 "As world-wide the first series gliders, MESCAL and TEQUILA are equipped with the jet flap - technology. These patented lift generating devices make starting and landing very smooth, especially in powered flight: reduced speed on take off and landing, also with a higher wingload, give a substantial bonus is safety. Ground skimming, an important part of paramotor fun, is the domain of skywalk paragliders because of the jet flaps."
"We, at Skywalk, are commited to offering our customers only materials which are thoroughly tested to meet the highest level of standards. Only after successful completion of many tests and test series, will a new material be allowed into production by Skywalk."
"The synergy of material technologies (Paragliding/Kiting) won from our materials tested in our kiting business sector is very helpful in the development of materials useful in both sport areas."
"That means only the best materials, which have successfully completed our test series in extreme adverse conditions, such as material weathering due to attack by saltwater, sun, sand, and wind, will 'survive', and be brought into consideration for use in our paraglider and kites."
Now, for pilots that want to throttle up, Skywalk has designed the MOTO.RIZER risers for powered paragliding. Hook up the caribiners to the low hook-in point for free flight and the high point for paramotoring, making lengthening the brakes unnecessary. Also, counterbalancing the torque effect is simple with these innovative new risers. Speed can be increased as much as 6-9 km/hr depending on the glider with the included trimmers.